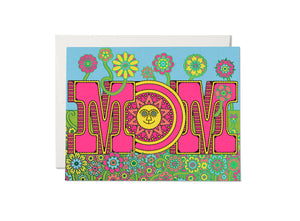 MOM BLOOMS
Regular price
$ 5.00
$ 0.00
Unit price
per
A great any time card to let mama know you're thinking about her. Fun typography with a school house rock vibe. Inside is blank for your message. Comes with an envelope.
From Red Cap Cards, made in Los Angeles, California
100lb heavyweight cardstock
foil
4.25 x 5.5 inches
illustrated by Nolan Pelletier
Nolan Pelletier is a freelance illustrator and designer from Connecticut who currently resides in Toronto. He shares a mint green Victorian house with his wife, illustrator Kaley McKean, and their Maine Coon cat, Snoopy. As a lifelong collector of antiques and printed ephemera, Nolan takes inspiration from an eclectic array of historical influences. His colorful artwork combines a modern design sense with the detailed decorative motifs of other eras. Nolan's illustrations have appeared in the New York Times, the New Yorker, and elsewhere—and he's collaborated with the fashion designer Anna Sui on art for several of her collections. When he's not working on client work, he's obsessively trawling flea markets and eBay for vintage graphic design books, tending to his allotment garden, or working on his illustrated newspaper, The Somnolent Garden Rambler.
---
Share this Product