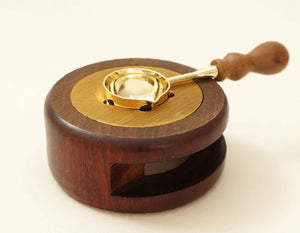 Rosewood sealing wax melting furnace stove with spoon and tea light
Regular price
$ 30.00
$ 0.00
Unit price
per
This rosewood melting furnace stove will make you enjoy sealing even more as you no longer need to hold the spoon on top of the flame throughout the whole melting process.
We believe that materials are very important when it comes to tools like this. Therefore, the furnace stove we offer is made with solid brass and rosewood. Rosewood is naturally oily wood that makes it less likely to crack due to dryness and has beautiful wood grains all around the stove.
Simply light up a tea light candle, put your sealing wax into the spoon and let it sit on the stove while you enjoy the stunning melting process.

Sealing wax beads sold separately.
For the best result, we suggest using a toothpick to stir the wax for evenly melted wax.
The sealing wax spoon and melting stove is namely your best companion in the wonderful world of wax sealing.
Sealing wax spoon
length 9.2 cm
width 3 cm
depth 1.5 cm
furnace stove measurements
width 7.8 cm
height 3.5 cm
---
Share this Product